Is Your College Student Covered?
You know your student is protected while living at home. But what about away from home?
Before loading up the family car to the brim to take your student to campus for the year, it's never too late to make sure your student is protected by coverages from Penn National Insurance.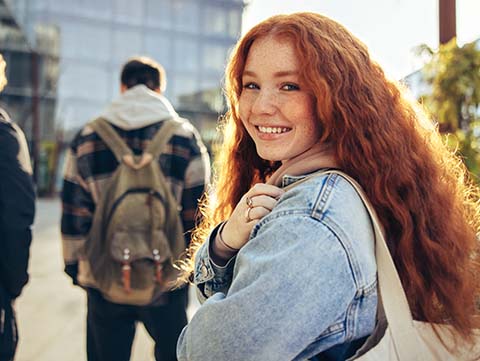 So is my student's stuff covered?
Yes. Coverage is provided under Coverage C of our Homeowners Policy. The Homeowners definition of an insured includes a student enrolled in school full-time, who was a resident of your household before moving out to attend school. The student must also be under the age of 24 and your relative. Theft of property is covered as long as the student has been there at any time during the 60 days immediately before the loss.
All named perils are subject to 10% of Coverage C, or $1,000, whichever is greater for personal property.
What about liability coverage for students?
While most college kids receive "insured" status for their personal liability, the Homeowners Policy has limitations on which premises are covered for liability that arises out of the premises. The policy contains exclusions for claims "arising out of a premises owned by an insured, rented to an insured or rented to others by an insured, that is not an insured location."
While a dorm room, by its nature, fits the definition of an "insured location," to avoid any uncertainty regarding whether or not a rental house or rental apartment is considered an "insured location," we encourage the parent to purchase a Tenant Homeowners or Renters policy for the student.
What about computers and mobile phones?
We offer up to $10,000 in computer coverage by using the Blanket Value Items coverage endorsement. (This endorsement also offers other valuable coverages for jewelry, golf equipment, musical equipment and more for mom and dad.)
Cellphones would be covered under your homeowners policy, subject to deductible. In most cases, purchasing insurance from the wireless carrier is a better choice than filing a claim under the homeowners policy.
Are students attending college in another state and listed on the parent's auto policy covered?
Since your son or daughter is already listed as a driver on your policy and is still technically a member of your household, your student can remain on your policy. However, you do need to let your agent know that the car is being kept at a different location. This could alter your premium, either up or down, depending on the location.
If you decide not to let your student take the car to school, your premium could decrease. This is because the car will not be driven as frequently by a younger driver. Younger drivers are classified as high risk, and that risk is reflected in your premium.
As you should do before making any insurance coverage decisions, talk things over with your Penn National Insurance independent agent.