Information Needed to Report A Claim
We are happy to fill out the proper forms needed and submit the claim.
Calling our Workers' Compensation claims customer service number is the fastest and easiest way to file a claim.
Experienced staff are ready to complete the necessary form for you or your policyholder and file it electronically. Plus, we'll make sure that the form is sent to all required recipients: NCIC, the agency, employer, employee and KeyScripts.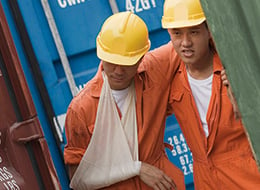 Another important benefit is that you immediately obtain a claim number, which is needed by medical offices when an employee receives treatment. Not having a claim number could delay medical treatment for the employee.
When you call our workers' compensation claims customer service number, make sure that you have as much of the following information as possible. While this information is not needed to initiate a claim, we will ask you for this information at some point so we can better manage the claim.
Employee Information
Employee's name, address and phone number

Employee's job description

Employee's Social Security number

Employee's date of birth, marital status and number of dependents

Employee's length of employment

Employee's gross weekly salary and weekly work hours

Employee's medical status and physician/hospital name
Employer & Accident Information
Policy number

Employer's name and address

Names of witnesses or first person to arrive at the scene of the accident/injury

Date, time and place of accident

Complete description of the accident

Complete description of the injury

Name of person calling in the report

Return-to-work date