Early Return to Work
It's better to pay full pay for half-a-day's work than two-thirds of full pay for no work.
Typically, employers pay two-thirds of a day's pay from workers' compensation benefits for every day an employee cannot work, according to the International Risk Management Institute. If the employee returns to work for half a day, the employer has a financial gain—even if the employer pays the injured worker full wages. The moral: It's better to pay full pay for half a day's work than two-thirds of full pay for no work.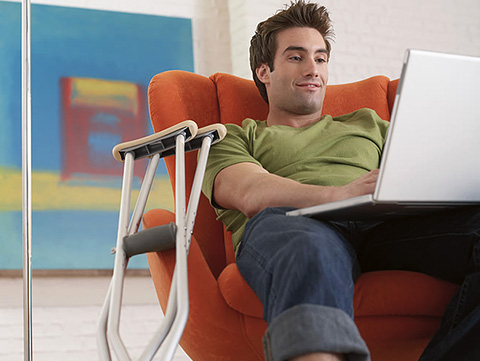 Studies have found that with a modified-duty program, workers returned to work three to four weeks earlier. Think of the savings to the employer (not paying overtime, hiring temporary workers, etc.) Plus, the worker who returns to modified duty contributes to operations, while recovering from the workplace injury.
Helping injured employees return to work
Many injured workers are unable to return to their regular jobs until after they have completely recuperated. But with a commitment to temporary modified duty, you can help your injured workers remain a productive part of your work environment.
What is modified duty?
Modified duty is a short-term assignment that matches an injured employee's medical restrictions with temporary, light-duty tasks-lasting only until they are able to return to their regular jobs. Modified duty enables injured employees to continue working while they recover.
Virtually every workplace has light-duty tasks. These light-duty tasks may be performed by several different people—or they may be useful tasks that no one has time to do. Take into account the skills of the employee and their specific medical restrictions, and then match the employee to any light-duty tasks that are available. (Your claims adjuster can help you with any local regulatory requirements.) Modified duty doesn't have to be full time. Your company can still realize the benefits of modified duty through part-time and even intermittent tasks.
How long should modified duty last?
In general, modified duty should not last more than 30 days, but can be renewable for another 30 days if medical circumstances warrant. When a medical condition requires that a worker be on modified duty for more than 60 days, you may need to retrain the worker and move them into another type of job. Regardless, you should determine the acceptable time frame in conjunction with your claims adjuster and build it into your modified duty policy.
Modified duty should allow the injured employee to progress toward their regular duties as they recover. If medical restrictions can't be lifted, you may need to explore a more permanent solution.
Train supervisors on their role in managing workplace injury
Supervisors play a key role in responding to injuries, in returning injured employees to productive employment, and in assisting with the investigation of accidents. Ensure that all supervisors understand their post-injury responsibilities and their key roles in prevention.
All employees must understand their responsibilities in preventing injuries, in working safely, and in reporting injuries to their supervisors. Employees also should understand that you have a system that will take care of them if they become injured on the job. The security that comes from this knowledge tends to reduce their anxiety over what may happen to them if they become injured.