Roadside Assistance
24/7 peace of mind when you find yourself stranded on the road.
No one likes to have car trouble while on the road, but our roadside assistance coverage gives you peace of mind when stranded on the side of the road.
Need assistance now?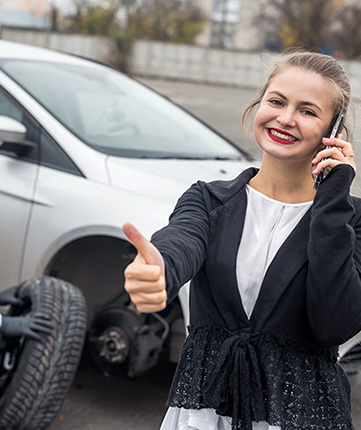 For as little as $10 a year, you can add this valuable coverage to your auto policy. Roadside Assistance is a 24/7 service and includes the following services:
Emergency towing services. Disabled car will be towed to the nearest qualified service or repair facility
Jump start. If battery failure occurs, we will jump start your auto.
Roadside fuel and fluid delivery. Provider will deliver up to 2 gallons of fuel and the fluids required to operate the covered auto, if the vehicle becomes disabled as a result of a loss of essential vehicle fluids.
Flat tire change. Includes removal of flat tire and replacement with usable spare from the vehicle.
Lockout assistance. Applies to keys that are lost, stolen or locked inside of the vehicle.
Roadside winching. When other roadside assistance methods fail, the roadside assistance provider will pull the vehicle out of a dangerous situation.
Requesting roadside assistance is easy. You can request assistance by phone, website or our mobile app. Once roadside assistance is requested, a qualified service provider will be dispatched and you will receive a text message with a link to track the progress and estimated time of arrival. Automated texts of the provider's location help keep you in the loop at all times.
Feel secure with roadside assistance. It's just one of the ways we make life better when bad things happen.