Workers' Compensatin PayGo Plan
Convenient online option to help you manage your Workers' Compensation premium.
Pay-As-You-Go (PayGo) is an automated billing option for your Workers' Compensation policy, designed to help you more accurately manage your Workers' Compensation premium. We have partnered with SmartPay, a leader in pay-as-you-go providers, to bring you a secure, convenient online process for reporting your payroll.
Benefits of the PayGo billing plan
Matches your premium payments to actual payroll as it is incurred

Assists in cash-flow management

Lower down payment

No additional paperwork for subsequent renewal terms
Talk to your agent for more information.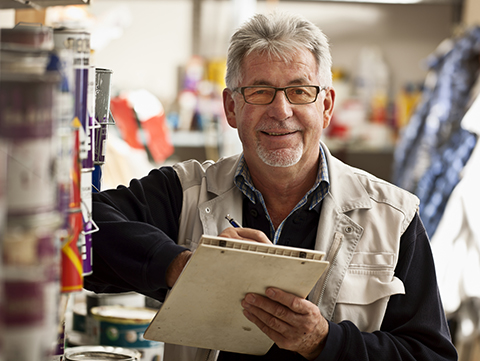 PayGo allows you to pay your Workers' Compensation premium automatically, in real time, as you run your payroll. Payroll reporting options include:
Self-reporting payroll at the end of each payroll
Linking to your payroll company
Using SmartPay's reporting service
Premium is automatically withdrawn from your bank account based on payroll reported.
Please Note: If ADP or Paychex is your payroll provider, you will have to self-report or use SmartPay's reporting service.
To be eligible, you must:
Have a 12-month Workers' Compensation policy
Have a minimum estimated premium of $1,500
Have at least one payroll-based classification
Report payroll by class code
Agree to have premiums paid via Automated Clearing House (ACH) withdrawal on a checking account.
No, you do not need to use a payroll provider service. You can report payroll directly to SmartPay, who will provide instructions to you on this simple procedure. SmartPay also offers reporting services for a minimal fee.
Payroll reporting is ultimately your responsibility. If payroll is not reported, Penn National Insurance will cancel your policy according to the regulations of your state. You will receive emails notifying you that payroll has not been reported and this may result in cancellation of your policy.
Penn National Insurance will still perform an audit. With accurate and timely reporting of payroll during the policy term, there will likely be very little to no premium adjustments, and the audit process will be much more efficient. Visit our Premium Audit pages for more information.
To enroll, you must provide:
Your email address
Payroll cycle (weekly, bi-weekly, bi-monthly, monthly)
First payroll check date after policy effective date
Payroll provider's name and email address (if applicable)
We have negotiated competitive pricing for our Workers' Compensation PayGo through our partnership with SmartPay.
As with other Commercial Lines policies, there is a down payment of premium, which is typically lower than other pay plans. Depending on the reporting mechanism, it could be a percentage or flat fee. Installment fees are charged and spread over the selected payment periods. Fees may vary by state, and other fees may apply.