Protect Your Roof From Damage
Your roof is your home's first line of defense from the elements.
Your roof is your home's first line of defense from the elements. Over time, sun, wind and rain wear down your roof. It can be the most vulnerable component of your home to severe storms — and the costliest single site of damage. Since leaks caused by normal, age-related roofing failure usually are not covered by your insurance, it's important to make sure your roof is built the right way and maintained.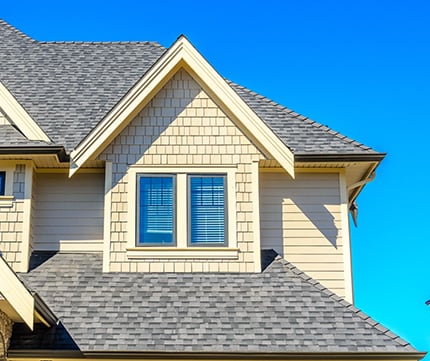 Tips to Help Your Roof Last Longer
Don't forget to ventilate. Proper eave and ridge ventilation may help extend roof life by reducing the buildup of heat and moisture. You want to keep the warm air in your living space as long as possible and get it out of the attic as quickly as possible. Adding ventilated panels to the eaves is usually an easy and economically efficient way to add ventilation when you are installing new siding or rain spouts.

Keep trees trimmed. Don't plant trees too close to your house — follow the recommended planting distance from your house or any other structures. Keep mature trees trimmed to prevent them from rubbing up against the roof and to prevent excessive debris buildup.

Clean your gutters. Keep roof valleys, gutters and downspouts free from leaves, twigs and other litter that can build up and prevent proper drainage.

Consider treatments. Preservatives available for some roof types may help limit weathering effects of moisture and retard growth of molds and moss.
Signs Of A Problem
When it rains, do too many roof granules wash away? Are there water stains on your ceiling? Even the smallest leak or curling shingle can be a sign of trouble.
Tips On Hiring A Contractor
Get bids from reputable contractors and check references.

Request verification of insurance.

Make sure the bid clearly defines the work to be done, including hauling away of debris and yard cleanup.

Specify within contract a time frame for completion.

Never pay the full amount upfront. Don't make final payment unity you verify the job is complete.
Choosing The Right Materials
Roofing products have changed significantly over the years. There are a wide range of choices in material, appearance and price. Some roofing products work better in certain parts of the country than others. In addition to the weather, the shape or type of roof also dictates which materials will better protect your home. When it's time for a new roof, make sure you choose reputable contractors and materials that will help protect your home for many years to come.
If Something Happens
Even careful homeowners can experience a loss. If damage occurs on your property:
Remain calm

Secure the property or area where damage occurred

Make an inventory of damaged items.

Contact your independent agent or insurance carrier

Contact the police if a crime is involved or an injury occurs for which you could be held accountable