Driver Safety Tips
You should continually assess your ability to drive safely.
The years pass quickly between getting a driver's license as a teen and becoming an older adult driver. As we age, we need to continually assess our ability to drive safely, keeping in mind not only our safety, but also the safety of our passengers, other drivers and pedestrians. Four primary issues that affect our driving as we age are vision, hearing, medication and vehicle safety.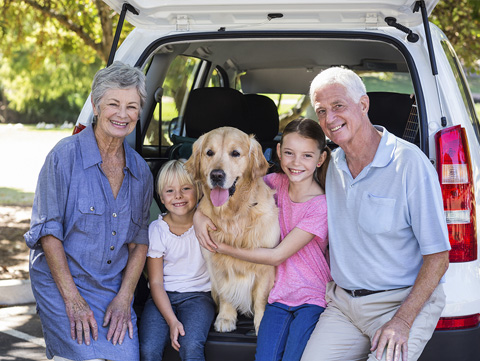 Changes in Vision
Nearsightedness and farsightedness are common vision issues. Medical problems could include cataracts, glaucoma or macular degeneration. As drivers age, they may also experience changes in:
Light sensitivity

Focus

Depth perception

Peripheral vision
Tips
Wear sunglasses to reduce glare on sunny days

Visit the eye doctor annually

Limit nighttime driving. Plan long-distance trips for the daylight hours.

Avoid driving at dusk or dawn, when it is most difficult to see
Changes in Hearing
As a person ages, hearing may decrease or it may become more difficult to distinguish sounds. Hearing is crucial to driving, as it helps alert drivers to changes in traffic, including the approach of emergency vehicles or the horn of another vehicle.
Tips
Turn off the radio or keep the volume low

Keep the air conditioner or heater on low to help reduce background noise

Limit conversation with passengers, which can be distracting
Medication
Medication can affect an individual's ability to drive at any age. Older adults are more likely to take multiple medications, and may need to take extra steps to retain their driving abilities while taking medication.
Tips
Ask your physician or pharmacist if your medication, alone or in combination with other medications, can affect your driving

Read the label of each bottle carefully

Evaluate your own reaction to medication. Even if the label does not contain a warning, your body may react.

Remember that alcohol and medication don't mix—especially when driving
Vehicle Safety
Every driver should take steps to make sure their vehicle is safe for driving.
Keep windows, windshields and mirrors clean

Keep wiper blades clean, and replace them at least once a year

Become familiar with your vehicle's displays and controls

Use lights in rain, snow or other bad weather

Use turn signals to alert other drivers and pedestrians of your intentions

Keep your headlights and taillights clean

Check your mirrors frequently

Reduce fatigue by making frequent rest stops, or by adjusting your body's position while driving

Check tires for tread wear

Plan alternate routes for highway travel if the minimum speed limit is too fast for your comfort or you travel congested routes particularly during rush hours